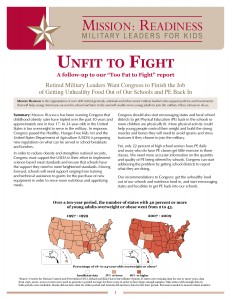 While excess calorie consumption, not reductions in physical activity, is primarily responsible for the current epidemic of obesity, better physical fitness is crucial for addressing this epidemic.  This report presents three clear facts:
Many young Americans do not exercise enough. While 90 percent of 9- to 11-year-olds participate in moderate to vigorous exercise for the recommended hour each day, by age 15, only 30 percent do; and only 22 percent of American high school seniors have Physical Education daily.
Those who do not exercise enough do not do as well in the military.
Recruits who are too fat or unfit have more injuries.
The federal government can encourage states and local school districts to get Physical Education back in the schools, starting with reporting on the quantity of PE that kids are receiving as compared to national standards, as well as the quality of that PE. That will empower parents to work with policymakers at the state and local level to decide whether their districts are doing enough to combat the epidemic of childhood obesity and make rational policy choices.